As I mentioned before, it took a matter of minutes to hail a cab and be on our way to the Airbnb property we were staying in. The Airbnb we were staying in was located about 25 minutes from the Kyoto Train Station and was adjacent to the Kyōto Kitano Post Office. When I was booking accommodations, I was looking for something in a more traditional neighborhood with some modern amenities.  Kazuya's 3 bedroom 2 bath townhouse seemed to be the right choice.
Getting out of the taxi, I felt a little out of place dragging my carryon through a residential neighborhood. It was fast approaching sunset and the lanterns were turning on along the street. It was truly charming.
Our host Kazuya, met us at the door to the townhouse. Check in was a pain free, fast, and Kazuya had a map full of tourist information in the area with all the nearby temples marked with captions/annotations. Wifi was available for free and
The ground floor featured a dining table and a studio style kitchen. The kitchen was small, but decently well equipped with all the utensils, pots, and pans needed to cook a meal.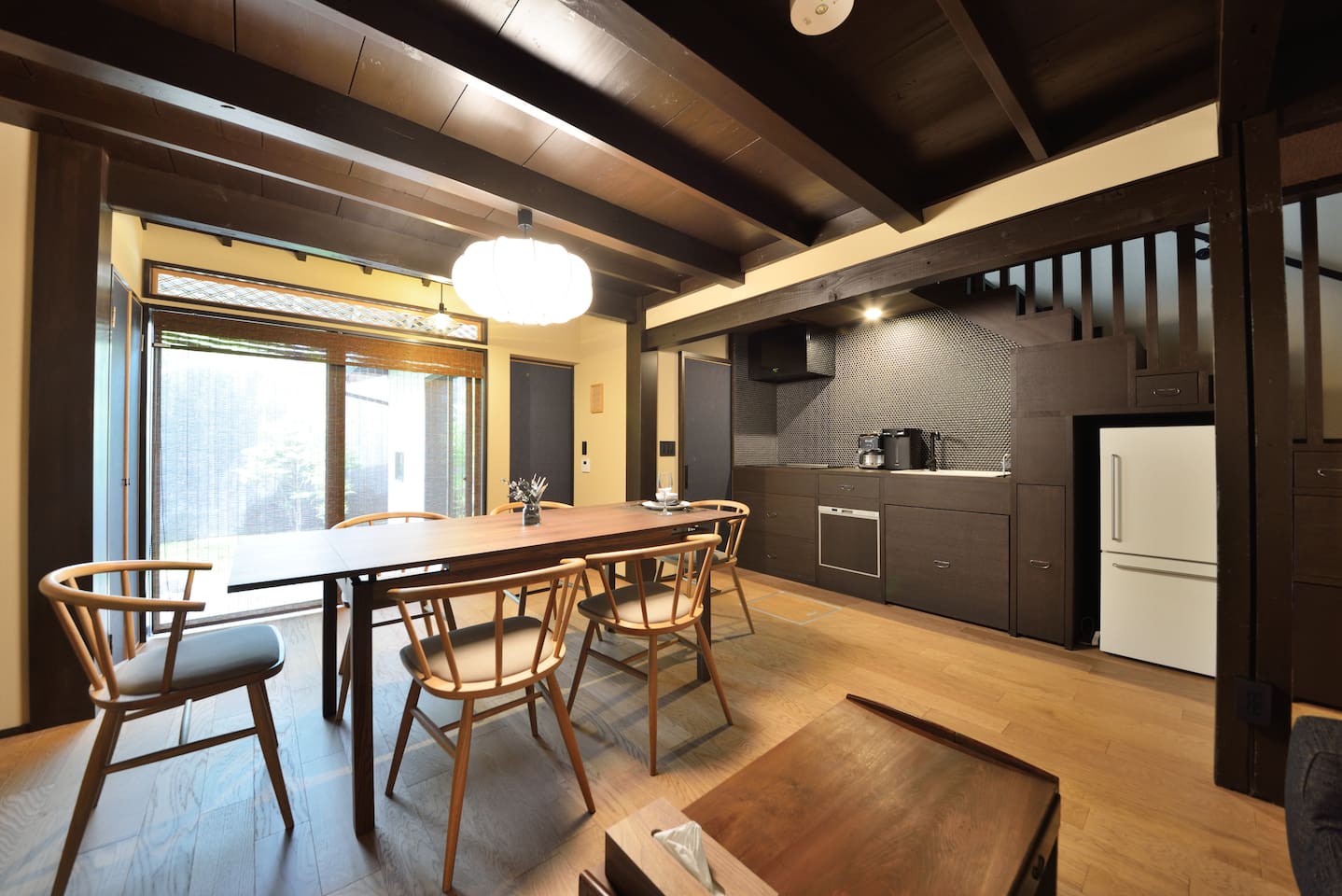 There was a half bath located next to the kitchen and a walk in shower and tub next to it. We weren't fans of having a toilet right next to the kitchen, but I guess having such a big shower area is always a plus. Water pressure in the showers was absolutely fine, but I somehow couldn't get the showers downstairs to get hotter than a lukewarm temperature.
FYI: For more pictures, click on the link above to the Airbnb listing.
All the bedrooms in the house were located upstairs and there was a bench area right next to the window upstairs. The windows were lined with your typical Japanese style wooden shades.
Both the rooms featured double beds, and one of the rooms had a desk adjacent to them. The beds weren't the greatest for luxurious napping, but they certainly did the job. I was completely ok with the beds, but my parents thought they were a bit too small and soft.
There was another full bath upstairs, which featured a tiny walk in shower and of course a Japanese toilet.
From our room you could see the central courtyard or garden as well as the nearby homes. As you can see these homes were your quintessential Japanese style places, though I have to say that they were more spacious than other places I've looked at.
The property is located at a walking distance from the Kinkaku-ji temple and is just a stone's throwaway from many other photogenic temples in Kyoto like the Daihōon-ji temple, and Hirano shrine to name just a few (there are over 1500 of them in Kyoto). The streets outside were also full of local artists and artisans working on their hobbies from the front of their homes:
The area around the house was also very quiet for the better part of our stay. We hardly saw any cars or buses go by on this street. Although we mostly elected to walk or take a taxi, the local train station (Kitano Hakubai-Cho Station) is just a block away, which is an affordable option for getting into the center of Kyoto.
---
Bottom Line:
Kazuya's Airbnb was great for our family of 4. It was conveniently situated for visits to the temples of Kyoto, and the area in itself was quite charming to walk through. It certainly gave us a feel for what it was like living in a more traditional Japanese style condo. Wifi was fast and Kazuya was very responsive and helpful with detailed maps for the area. With that being said, we were a little disappointed with the water temperature in the townhouse as well as the beds, but those are the things you need to adjust for while staying at an Airbnb, which comes at a fraction of the cost to stay in a hotel. All said and done, Kazuya's place was a great value and I wouldn't hesitate to return if I were in Kyoto.
---
Japan Trip Report Index:
United Business Class DFW – IAH 
United Polaris Houston – Tokyo (Narita)
Narita Express (Narita – Tokyo Station)
Focal Point: Tokyo in the Rain
Focal Point: The Secret Alleys of Tokyo 
A Tourist's View of Tokyo: Sunday in Asakusa
JR Rail Review: Shinkansen Hikari First Class (Tokyo – Kyoto)
Airbnb Review: Townhouse in Kyoto's Old Town