It doesn't take a genius to figure out that my favorite place to visit on Earth is Switzerland. I've written quite a few articles describing this and I don't think I will ever stop raving about the beauty of this country. But within Switzerland itself there is even more of a special place for me, which I don't like talking about to other people because it might get overrun with people one day (I'm kidding). The Jungrau Region of Berner Oberland in Switzerland is perhaps he most ideal playground for nature enthusiasts of all levels. If you don't feel like doing intense hikes for insane views, you can just step right outside or take the nearest train or gondola. If you are looking to find some fine food, you can find those everywhere alongside some pristine alpine scenery. If you are looking for a serious hike or photograph, there are hundreds of kilometers of paved trails with varying difficulty. On top of this, there is absolutely no wildlife (eg. bears and/or snakes) to threaten or ward off lone hikers. I say this because as a lone traveler I'm always wary of the threat of bears, wolves, snakes, and crawling critters.
My family is pretty much a mix of all of the above. While my parents don't like to do to many strenuous hikes, I absolutely love to take up the challenge of a alpine hikes for my photography. My sister is of course a class of her own and just likes to watch Netflix. In order to do some hiking in a group like our own, I needed to come up with a place which had both inspiring scenery and practical hikes. Switzerland is perhaps the only place on the list where you can grab a train or gondola to the top of a mountain or hill and just enjoy the hike down with the help of gravity.
Anyway since Frankfurt was our port of entry it made sense for us to rent a car and drive to Switzerland rather than paying for 3 separate sets of 4 tickets from Frankfurt to Baden-Baden, Baden-Baden to Colmar, and Colmar to Wengen. Believe it or not driving is still is the fastest and most convenient method of transport in Europe. Add in luggage and the cost of train tickets for four people, and you will start noticing that a car might actually be cheaper for a family after all. Having a car also let me get away with buying a regional Swiss Rail Pass (Jungfrau Pass). So we probably saved money in this one instance by not doing this entire journey via train.
Instead of continuing on rambling, I thought I would write this post in a question and answer format to better highlight some tips and tricks to visiting Switzerland.
---
What do you need to drive a car across the border into Switzerland?
All cars must have a Swiss Motorway Vignette to enter Switzerland from Germany, Austria, or France. These vignettes can either be bought online and shipped to your address in your respective country or picked up at airports in Geneva, Zurich, or Basel or bought at the area of entry into Switzerland. Don't even think about driving on any highway in Switzerland without one of these vignette stickers because the fees associated with not having one are outrageous.
Do note that most rental cars rented in Switzerland at Zurich, Geneva, or Basel do already have this vignette in place.
The cost of this vignette is 43 CHF for the year 2019 and cannot be used for more than vehicle at a time. Basically don't forget to take your vignette with you when you return the rental car because you can use it again if and when you revisit Switzerland within the same year and drive another car. 
---
Where do I park my car in the Jungfrau Region?
Many hotels and AirBnBs in Grindelwald and Interlaken offer free parking, while there are car parks (garages) in both Lauterbrunnen and Interlaken for those looking to stay in the car free villages of Murren and Wengen.
---
How much did I pay for parking my car in the Lauterbrunnen Car Park?
76 CHF (inclusive of tax) for 7 days and I do believe you can take your car in and out of the car park for free during the period.
---
What do I mean by Jungfrau Region?
The Jungfrau Region is defined as the region covered by the following Swiss Rail Map and basically encompasses the Lauterbrunnen and Grindewald Valleys along with their adjacent peaks.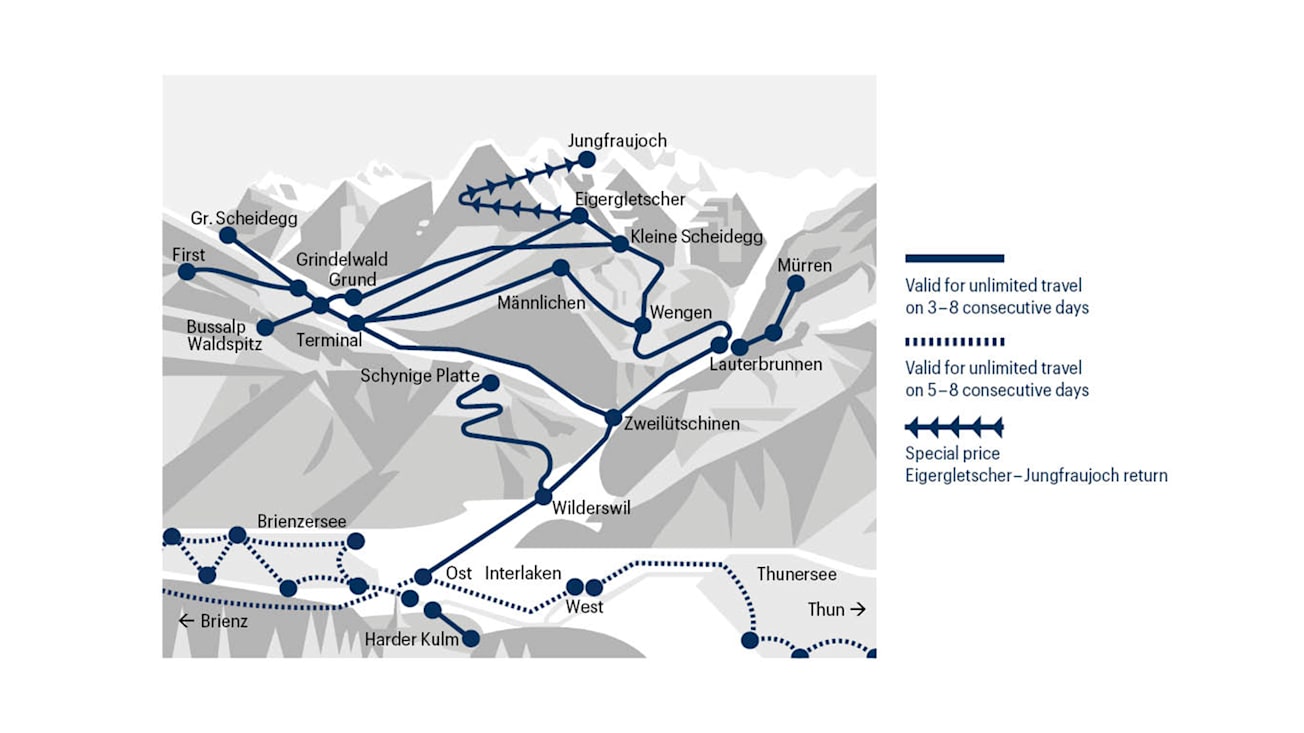 ---
Where did I stay in the Jungfrau Region?
Prominent towns in this region of Switzerland with significant number of accommodations include Interlaken, Grindelwald, Lauterbrunnen, and the car free villages of Wengen and Murren. I stayed in the car free village of Wengen because I'm absolutely in love with the view of the Lauterbrunnen Valley from this location. I would love to stay in Murren, but the trams going up and down are a little less frequent than Wengen.
---
Where should you stay?
However it is probably more practical to stay in Grindelwald for three reasons:
Potentially free parking at your accomodation
Easy access to Grindelwald First (the activity center of the region)
The greatest array of restaurants.
Only one ride train ride away from Wengen (via Kleine Scheidegg)
If you are planning on a late night arrival, rail services to Murren and Wengen stop at around 11:30pm daily
---
---
How do I get around while staying here?
If you are focusing on Berner Oberland:
The best way to explore the region is by buying a Jungfrau Travel Pass, which includes everything on the map above except for the Top of Europe (you don't want to go there anyway, it's a tourist trap). This travel pass is the best option for you if you are focusing your trip just on the Jungfrau region or driving into the area. If you are able to plan every hike and count on your feet to do more work, you can probably get away with a Swiss Half Fare Card which gives you 50% off on everything. Do remember though that this area of Switzerland is notorious for steep gradients. It can be tough on either the knees or the thighs hiking this area.
If you are traveling to various destinations in Switzerland
If your plans take you to places all around Switzerland, it's probably best if you buy yourself a Swiss Travel Pass for however many days you are going to use the pass. Don't initiate the pass until the day of your first long haul train journey or the day you take more than 2 trains. You don't want to waste the pass on days where you are staying in ports of entry like Zurich, Geneva, or even Basel.
---
What are the places you should visit while in the region?
Wengen/Lauterbrunnen
Wengen is car-free village located around 4000 ft above the Lauterbrunnen Valley in Switzerland. The town boasts one of the grandest scenes in the world: the view of the Lauterbrunen Valley with its duo of waterfalls framed by some of the tallest peaks in the region: the Jungfrau and Monch. It's the scene said to have inspired Tolkein's Rivendell in the Lord of the Rings novels and the writers of this blog to pick up a camera. The town also boasts the second largest concentration of restaurants and shops in the area (largest outside of Grindelwald). Wengen is connected to Lauterbrunnen as well as Grindelwald (via Kleine Scheidegg) by train and Mannlichen via gondola. The hike from Wengen to Lauterbrunnen is perhaps one of the finest in the country and takes you alongside the rolling hills, forests, streams, and farms in the area.
Grindewald/Grindelwald First
The largest town in the region outside of Interlaken is Grindelwald and serves as the base for most tour groups in the area. The town sits at nearly 4000 feet above sea level and is easily accessible by road or train from the rest of the Switzerland. Grindelwald is considered to be the activity center for the region and is connected to the summit "First" via cable car. Many of the region's best hikes and attractions are accessible from First including the hike to the famous alpine lake known as Bachalpsee and the Cliff Walk by Tissot. Other popular activities include ziplining, paragliding, bungee jumping, and mountain carting. There is no shortage of ridiculous views or fun activities in the area, which perhaps makes it the most popular spot on the list.
Murren
The traditional village of Murren is located approximately 5,500 feet above the Lauterbrunnen Valley floor directly opposite to the town of Wengen. The town is well known for its direct views of the three tallest peaks in the Bernese Oberland (Highlands) region of Switzerland: Eiger, Monch, and Jungfrau. The other notable aspect of the town is its rather massive sports center, which includes one of the most beautiful set of clay courts you will find anywhere. My cousin and I played a couple of sets of tennis during our around the world trip and we would certainly describe it as one of our favorite experiences ever. The other major attraction in Murren is the cable car to the summit of the Schilthorn, where scenes from the Bond movie: On Her Majesty's Secret Service was shot. I would highly recommend visiting this observation deck over going to the Top of Europe on any day because it is included in certain rail passes and is significantly cheaper than Junfraujoch. 
Here are the highlights of our amateur tennis match in the Alps: https://youtu.be/S1gc747qmYg
Mannlichen
Mannlichen is a 8000 foot mountain looming over the town of Wengen with which it is connected by an aerial cableway. The mountain is a great vantage point for viewing both the Lautbrunnen and Grindewald valleys as it sits right in the middle between the two. There is a huge playground with swings, slides, and trampolines to have fun with while enjoying 360 degree views of the Swiss valleys and mountains. The walk from Mannlichen to Kleine Scheidegg is considered by many to be the finest easy alpine walk in all of Europe. It's basically a flat ridge line walk all the way and let's you soak in some of the best scenes the region has to offer.
Kleine Scheidegg
Many tourists skip spending some time at gateway to the Top of Europe, which is easily reachable by train from both Wengen and Grindelwald. While the Top of Europe is certainly the biggest tourist trap in all of Switzerland, the gateway to it is perhaps one of the most scenic areas in the Swiss Alps. Wildflowers grow at almost every ridge, colorful trains whiz by framing your postcard perfect shots, and summer thunderstorms roll through swiftly creating some insane light shows and rainbows. If you just hike further along the trail, you will find yourself looking at cerulean man-made lake known as the Fallbodensee over which tower the famous peaks of the Eiger, Monch, and Jungfrau. My cousin and I found this to be a quiet place far removed from tourists because most people line up and get on the train to Jungfraujoch. I probably got my best shot in the alps from this location:
Schynige Platte
The Schynigge Platte is basically a mountain ridge with a viewpoint, accessible by train from Wilderswil (a quick train ride away from Lauterbrunnen and Grindewald). The mountain railway is considered to be on one of the highest in all of Switzerland and on clear days the observation deck features views of the Lauterbrunnen Valley, Grindelwald, Lake Thun, Interlaken, and Lake Brienz. It is pretty much the place to visit if you are looking for 360 degree views of the Jungfrau area. The fare to the observation deck at nearly 7000 feet is included with your Jungfrau and Swiss travel passes, which makes it one of the best places to visit on the cheap. As soon as you get off the train at Schynigge Platte, you are met with some alpine music from the Alphorn played by a traditionally dressed Swiss couple. There is also a self serve restaurant at the top of the steps where you can enjoy the views while having a quick bite to eat.
Interlaken
So I initially skipped out on Interlaken because of how touristy the place is, compared to other towns in the region. Somehow seeing buses full of tourists just turns me away from this place. However I must say that the place has a few interesting sights and great places to eat. The old town in Interlaken and north side of the river walk are the things you want to check out here. And maybe if you have the time, I would suggest heading up to Harder Kulm for sunset. While other vantage points in town are closed by the time golden hour rolls (especially in the summer), this place remains open. Unfortunately I have never made it over, but I am certainly planning on visiting next time I am in the area.
Note: Interlaken also has the only McDonald's in the area, which is a great spot to get a cheap meal. I should remind you that Switzerland is one of the few places where a veggie burger is available at all Burger King and McD locations, though the quality of it has deteriorated in recent times. 
---
What is a good itinerary for a visit here? (This is basically what I did while staying in Wengen)
Day 1:
Sunrise Shoot of Lauterbrunnen Valley from Wengen
Hike from Wengen to Lauterbrunnen followed by FGondola to Murren
Spend the Day in Murren
Go to: Gimmelwald/Schilthorn
Watch Sunset from Murren/Wengen
Day 2:
Train to Grindelwald via Kleine Scheidegg
Gondola to Grindelwald First
Hike to Bachalpsee (4 hours RT)
Grindelwald First Activities: Cliff Walk, Mountain Carting, Paragliding
Day 3:
Train to Kleine Scheidegg followed by hike from Kliene Scheidegg to Wengen (1.5 hours)
Gondola to Mannlichen, Spend time in Mannlichen
Mannlichen to Kleine Scheidegg hike
Train from Kleine Scheidegg to Wengen
Day 4:
Visit Schynige Platte
Spend time in Lauterbrunnen/Wengen
---
Should I visit the Top of Europe (Jungfraujoch)? Why have you not mentioned it?
Short Answer: How do you spell tourist trap in Swiss-German? Jungfraujoch.
For some reason this question always makes its way into my conversations with people about Switzerland. Everyone seems to want to go to Top of Europe and think it could be the highlight of their visit to Switzerland. Truth of the matter is that it's really not much different from the type of view you would get at the top of Gornergrat, Matterhorn Glacier Paradise, or Schilthorn. Two of these destinations (Schilthorn/Glacier Paradise) are even included in your Swiss Travel Pass.  So why would you pay 114 CHF more just to see something similar or see absolutely nothing as it is in most cases? Let's also point out that you will be among a huge of throng of tour groups up there, which can make the experience even more unpleasant.
However,if you are intent on going there make sure to look at the live camera feed (link here) before you go. If you see that it is really cloudy up there, it's likely that you won't see anything.
TIP: For your best shot at seeing something, go in the morning!
Side Note: The Swiss Travel Bureau probably doesn't wish me to tell you this because it appears to be one of their biggest tourist traps (they even have the highest Lindt Shop up there now).
---
What are some places I would love to visit, but have not been to?
Harder Kulm – This is a viewing point overlooking Interlaken and the entire region of the Bernese Highlands south of the town. I probably haven't made it here because I don't spend much time in Interlaken at all (I don't like running into tour groups)
Gimmelwald – the beautiful town of Gimmelwald is located just underneath the town of Murren on the way to the Schilthorn. While I have breezed by on occasion, I would love to photograph the area from this spot.  You might have seen this town featured on Rick Steve's Europe. 
Brienz – I don't think I've seen a lake that is as brilliantly turquoise as Lake Brienz in Europe. The color pretty much matches or even surpasses the color saturation of Lake Louise in Banff National Park in Canada.  While I've seen the lake on my drives and train rides next to it, I've never paid a visit to the lake itself, which just looks stunning. On top of this, Brienz is host to the Hardergrat trail, which is perhaps as close to heaven as you'll get in Switzerland (no pun intended just check it out here)
---
What are my favorite places to eat?
To be frank I don't really go out that often to eat while in the Swiss Alps because I usually stay at Airbnbs, and it is pretty expensive to eat out. The other thing is I have an immensely sweet tooth, which leads me to skip meals and spend all my money on desserts. So if I ever do go out, I always end up just ordering an ice cream sundae or buying loads of chocolate at the nearest coop supermarket. The few times I have eaten out have been at the hotel restaurants or Indian restaurants near my accommodations.
Wengen
Bäckerei Vincenz – they have one of the best almond croissants I've ever had. After a morning hike or walk this was my go to place for breakfast. One croissant costs 2-3 CHF (yes it is expensive).
Coop Supermarkt – has an assortment of sandwiches, ice creams, soft drinks, and baked goods at extremely reasonable prices (by that I mean a fourth of what it costs at a restaurant). Ingredients are fresh and most of the stuff I've tried is quite tasty.
Grindelwald
Central Hotel Wolter  – our go to place for Ice Cream Sundaes in Grindelwald. They also have a rather expensive (as expected) menu of local dishes, soups, and pastas.
Golden India – somewhat reasonably priced, great assortment of vegetarian options, and respectable portion size. Pretty much your go to place for Indian food outside of Interlaken. They've recently opened up a smaller branch in Wengen with a more limited menu.
Berghaus Bort – located on the way to Grindelwald First, this restaurant features local and Italian cuisine with some insane views of the Schreckhorn. Do note that they do charge for sharing main course items. The stuff I recommend are as follows: Alpenkräuter Ricotta Ravioli, homemade garlic bread, and carrot coconut soup. Certainly one of the best experiences we've had with food in the area.
Coop Supermarkt (as per norm)
Lauterbrunnen
Hotel Schützen – a larger than normal establishment for the area featuring local cuisine and Movenpick ice cream sundaes. I didn't really try any regular food items here so can't say if it is any good. It is probably one of the better places to eat in town from the looks of it.
Coop Supermarkt (as per norm)
---
What are some of great hikes?
The Swiss Alps are teeming with must do hikes and quite frankly you can't go wrong with any of them because of just how postcard perfect the country really is. This is by no means a comprehensive list, but here are some of the easier, relatively family friendly hikes that I have done during my visits to the region.
Wengen to Lauterbrunnen (45 minutes)
The roughly 45 minute downhill hike between Wengen and Lauterbrunnen is one of the most inspiring walks in the world. With writers like Tolkien drawing upon the scene to concoct fantastical places like Rivendell. One look at the scenes along the way really makes you wonder if you are really on Earth at all: 
Kleine Scheidegg to Wengen (1.5 hours)
This well paved trail downhill takes approximately 1.5 hours to walk from Kleine Scheidegg to Wengen. And during the first 15-20 minutes you are walking right next to the giant peaks of the region: Eiger, Monch, and Jungfrau. There are plenty of benches along the way to sit down, reflect, stare, ponder, or whatever it is you do when you see the grandeur of this area.
Further along the trail are vantage points from which you can see the town of Wengen. Mornings are usually the best times to complete this hike in the summer as evening thunderstorms may make things slick along the way. Also it is always nice to see the morning light falling on Wengen from Allmend so try to make it a point to not to miss out on that view:
Bachalpsee from Grindelwald First (45 minutes each way)
Perhaps the most popular hike in the region and maybe even Switzerland, takes you to the edge of this placid high alpine lake surrounded by prominent peaks. While the initial phase of this hike can be a bit strenuous, you will soon find that it eases out after about 15 minutes to a flat ridge line walk.  30 minutes later you are staring at the reflection of the Schreckhorn on one of the most iconic lakes in the world. I'm sure you've seen this image on magazines and wallpapers multiple times:
Winteregg to Murren (30 minutes)
Take the gondola from Murren to Winteregg and hike along the ridgeline to the town of Murren. The walk is no more than 30 minutes, but gives you uninterrupted views of the area with the various towns, farms, and wildlife (cows).
Murren to Lauterbrunnen (Stechelberg) (1.5 – 2 hours)
One of the favorite things for locals to do is ride their bicycles down to Stechelberg (the Lauterbrunnen Valley floor) and then use the cable car to come back up to Murren. If this interests you can rent bikes in Murren for the day and enjoy stops along the way to taste cheese or just take in this breathtaking angle of the Lauterbrunnen Valley.
Kleine Scheidegg to Fallbodensee (30 minutes)
I think I've beaten the merits of Kleine Scheidegg to death already so I will just leave you with this picture of myself standing on the edge of a ridge. Right behind me is the trail leading up to Fallbodensee and all I can say is you are truly missing out if you don't explore this area. The abundance of wildflowers is what really makes this trek up the ridge line most fascinating. Of course let's forget the red or white train departing for the Top of Europe.
What is my favorite place?
I've beaten this horse to death unfortunately. I will leave you with just one image and by this point you probably know where it is anyway. My favorite town, hike, and inspiration to travel completely comes from this one scene. I'm still on the lookout for a scene like this that can be great in any light, at any time of day, and during any season. This place is simply magical:
What are the issues with visiting this region?
It is quite expensive and there are no places in the area where you can leverage your points for some much needed relief to your pocketbook. A one week stay including the Jungfrau regional pass, food, and lodging is probably going to cost you $1000- $1500, all in depending on how you cut it.  The average nightly rate will be at minimum $60 (~$420 for 7 nights), a travel pass will cost approximately $400, food and beverages will cost approximately $150-$180.
*So reader KatyMax has suggested that people stay at the Hotel Tell in Interlaken where you can get a hotel room for 50 CHF/night + a regional bus pass. I personally prefer to be in the middle of things, but this sounds like a great deal. So do check it out and let me know what you think. 
---
How do you save money when visiting this expensive place?
Travel as a group/family to split the cost of an AirBnB and potentially reduce the cost of lodging
Know what places you are going to visit and plan out the usage of your Travel Passes
Buy groceries and food at the local Co-Op Store
Hike on the way down if you take the gondola up in case you don't buy a Travel Pass
Always buy a Half Fare Card if you don't buy any Travel Pass at all!
How can you support my quest to provide more tips/tricks to exploring Switzerland?
I would very much appreciate it if you could subscribe to my YouTube Channel. There's no real way for to link back to the blog and vlog unless I get to 1000 followers. So by subscribing you are really helping me better integrate the two aspects of this online log and give you a more comprehensive low down on travel. Here is my first vlog, which was actually shot in Switzerland:
---
---
Where can you see more pictures and directly ask me questions?
If you would like to see more images from the Swiss Alps or know more of the locations to snap the best images, follow me over on Instagram (@pvtejasvi). If you message me over there I should respond back very soon (probably sooner than the comments section of this blog :))